The Ultimate Guide to Wedding Photography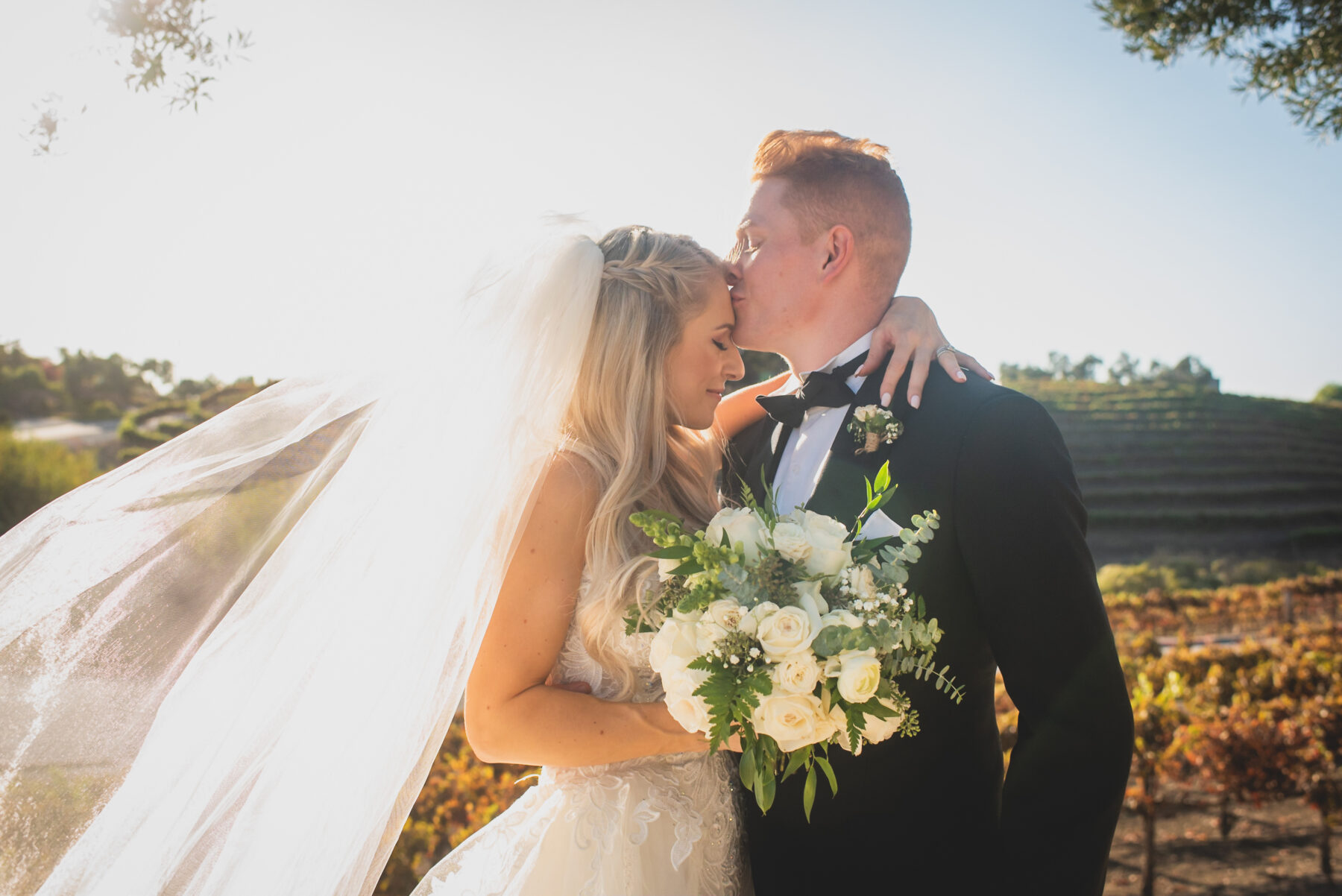 Should I have a wedding photographer at my wedding?
Absolutely! There are very few moments in life you want to relive and share over and over. Your wedding is one of them! And a wedding photographer will make the day infinitely stand still. 
Everyone has access to high-resolution cameras on their cellphones, but having your guests snap photos (and potentially share them with the world without your approval) on the most important day of your life is uncouth.
A professional wedding photographer keeps cellphones out of sight, where they belong, and provides multiple benefits, that include:
The Freedom to Enjoy Your Day.

First and foremost, this is

your

special day, to be shared and enjoyed with your friends, family, and guests. The last thing you need is your guests moonlighting as amateur photographers rather than celebrating with you! Photographers do more than take pictures. They perform. A wedding photographer represents balance and calm, so you and your guests can focus on celebrating instead of curating moments in substandard lighting using handheld devices. Your wedding day deserves a clear, photographic focus.


 

Capture the Unexpected.

Hiring a professional wedding photographer brings style, creativity, and carefully crafted experiences to life by capturing the emotion behind the shot. Whether it is the bride candidly blushing over the groom, or a heartfelt shot of doting grandparents, our skilled and compassionate photographers are trained to explore the valuable relationships our Forever Couples share with their guests, so their images reflect their newly combined lives. At Yours Truly Media, we know the stories behind some of these moments, and we capture them for you to cherish. Check out our photography

here.

One Time Only.

At Yours Truly Media, our wedding photographers are committed to furthering our Forever Couples' futures together, which is why we provide photos that allow each of our clients to relive their glorious day as bride and groom with smiles and tears of joy. Our wedding photos provide more than a timeless, mirrored image of your commitment. They provide images that invoke emotions and promote longevity. Not just for you, but for everyone you share them with going forward. You only have one wedding day. And our professional team of wedding photographers will get it right the first time, no matter what the day throws our way. Rain? No problem. Wardrobe trouble? We've got you. We believe the only real plan to capture the importance of your wedding day is to have a backup plan for any scenario. And then another. We do not rattle easily. 
How do I pick a wedding photographer?
Choosing a wedding photographer can be very stressful. Will they understand your vision? Do they know how important it is to capture the raw emotion from both the bride and groom throughout the day? How far in advance do I have to book them? If they are one of the best wedding photographers, should they even be available? The process can seem confusing, as it is often not easy to determine whose personality will mesh with yours.  
Each of these points presents challenges that you do not need — now, or on your wedding day. 
Here are a few tips to consider when streamlining the process of choosing your wedding photographer:
Ensure You Like Their Style.

This is critical. Can you visualize yourself in your potential photographer's style? Does it speak to you? When we see a photographer's work, it either invokes feelings of grandeur and excitement, or it falls flat. You never want to be in a position where you are asking a photographer to mimic a style that isn't their own. You should be their inspiration, not their coach. Partnering with an experienced wedding photographer requires matching styles, personalities, and a polished approach to delivering exceptional results.

Check Their Availability.

There is nothing worse than finding the perfect professional to capture your wedding day, only to find that he or she is booked for the year. When you inquire, lead with the date of your wedding, so they can provide a clear timeline of how quickly you will need to book before your day is no longer an option. If your choice of wedding photography is available, ask about their cancellation policy, including what happens if you cancel — or if they do. Sadly, both happen, so it is important to understand their terms before signing the wedding photographer agreement.

Make Sure You Are All a Fit.

You love your chosen photographer's style. You love their plan for before, during, and after the ceremony. Everything sounds great. But how do you feel when you hang up the phone? Are you mocking your photographer's approach? Is the groom uneasy with their strong personality? Communicating with your wedding photographer should only bring you joy and excitement. If your personalities clash, or if you are deriving stress instead of elation when you talk, you should find a better fit.

Professionalism and Reverence are Paramount

. Often, people accept quirky behavior from photographers and waive it off as "creativity." It isn't. It's unprofessional. And that is unacceptable. 
This is your wedding day, and everything must go right, which means your wedding photographer must appreciate and respect how important this day is and respond to its reverence with professionalism. 
We encourage our couples to ask questions and feel comfortable continuing to ask questions from the beginning of the partnership through the delivery of completed files, including: 
What can we expect in response times if we have questions? 

What happens if the photographer is not able to attend the day? 

If you're the only photographer… what happens? 

Can you help with my timeline? 

How do you work with other Vendors? 

How do we know when we will get our photos after the wedding if you're busy? 

What is the latest turnaround time for photos? When will we see a preview? Final shots?

Book!

The wedding photographer who shares your style and complements your personality is available on your wedding day. Book him or her right away! Typically, most couples book photography with Yours Truly Media within 12-18 months of their wedding day. Some, even two years. It is never too early to secure photographic brilliance, so even if you must shuffle around finances to get on their calendar, consider doing so, or ask your photographer about payment options to secure their talent on your day. 
What should I ask a wedding photographer before booking their services?
Our Forever Couples are committed to providing an amazing experience for their wedding guests and capturing the passion of that day requires a true wedding photography partner. 
As with any partner, you should feel compelled to ask questions that ensure they share your vision. 
Dive into what makes them excited about wedding photography, and ask for examples from other photoshoots, ceremonies, and receptions, so you know you are on the same page. Some sample questions you should ask may include:
What's your favorite part of the wedding? Can you share a fun story?

Tell me a time that was "interesting" and what you did about it?

What was your biggest wedding photography challenge? What was the solution?

Tell me why you love photography? 

How would you tell our story through images? 
While you may have many questions for your photography team, do not get bogged down with travel and movement details. Wedding photography logistics are important, but they should exist behind the scenes. You do not need to know who is moving the equipment from point a to point b. But you do need to know that your wedding photographer is excited and prepared to capture the complete essence and emotion of the day. 
After all, it is not just any day, it is your wedding day!
What do photographers wear to weddings?
At Yours Truly Media, we place a lot of emphasis on professionalism, because it is one of many attributes that set us apart from other wedding photographers. 
That includes how our photographers dress for your important day. 
Your wedding is no time for a photographer to express their creativity and affection for flair. It is a time to blend in as a guest by wearing clothing that reflects your wedding's dress code. If their wardrobe is not addressed during your consultation, do not be afraid to ask or provide guidelines fitting with your wedding's dress code. 
Wedding photographers should never take the spotlight away from your wedding, in appearance or behavior. 
How much does a wedding photographer cost? 
Like most things wedding related, you are going to find that wedding photography pricing varies greatly from studio to studio. 
The average costs for wedding photographers can range from as low as $1,500 to as high as $25,000, which often reflects an intimidating range that raises the important question, "How much is our wedding photography worth to us?"
Wedding photography is an investment like any other, which requires you and your soon-to-be-spouse to agree on a price you are willing to commit to financially. 
At Yours Truly Media, our complete wedding photography package includes six hours of coverage and starts at $2,695. 
Most couples will spend an average of $3,500 to $5,000 for wedding photography and often book other services like Cinematography/Videography as add-on services that may be discounted when combined, but more importantly, brings value and confidence in knowing one wedding photography studio is handling all your imagery. This brings a cohesive style to your important day and ensures everyone has the same vision that is being fulfilled by the same team. 
Do you tip your wedding photographer?
Tipping your wedding photographer is a personal preference and is not mandatory. However, like most service industry partners, tipping relays a sense of appreciation and serves as a special thank you. 
At Yours Truly Media, we have captured the beauty of thousands of Forever Couples and can only provide tipping advice based on our wedding photography experiences. 
While most couples tend to provide a straight dollar figure tip, which is commonly between $100 to $150 per photographer, we have received gratuity that has reached $1,000 for a single photographer, as the couple was intent on showing how thrilled they were with our partnership. 
No matter your tipping preference, rest assured it will be awarded to the proper wedding photography team member(s). 
What is a photojournalistic wedding photographer?
Photojournalistic wedding photography is best described as capturing well-crafted candid moments that focus on timing perfection. 
The first look. The grand entrance. Signatures smiles during the toast. A father's eyes when he sees his baby in her wedding gown for the first time. Photojournalism is natural, but curated through the Photographers experience of capturing the perfect moment. By understanding the couple's background, valuable relationships, and exceptional connection, we provide a comprehensive approach to getting shots that tell stories. 
What is a destination wedding photographer?
For some couples, destination weddings provide an intimate and beautiful backdrop for their wedding photographers, whether on the Countryside in Italy or Surfside in Laguna Beach. 
If you are planning a destination wedding, you are not limited to local photographers. Instead, choose the wedding photographer that reflects your style and persona, and discuss how much it would cost to bring them along. This will be an additional expense, but capturing your perfect photos will only happen once, so splurging for a destination wedding photographer may be worthwhile. 
When should you book your wedding photographer?
Typically, most couples book photography with Yours Truly Media within 12-18 months of their wedding day. Some, even two years. It is never too early to secure photographic brilliance, so even if you must shuffle around finances to get on their calendar, consider doing so, or ask your photographer about payment options to secure their talent on your day. 
How do I find a wedding photographer near me?
Searching for the ideal wedding photographer can seem like a daunting task. 
Most couples are searching for a local wedding photographer, simply so they do not have to worry about the logistics. They take comfort in finding a wedding photographer near me, so they know where the venue is, and how long it will take to get there. 
An easier way to search for wedding photographers in your area is to ask for referrals or to read online reviews. This provides first-hand knowledge — and the occasional rave reviews — of how the wedding photographer made their day perfect. 
Next, there are dedicated wedding review sites like The Knot and Weddingwire that can help you search for vendors, too. These websites often provide real insight into how and why partnering with a professional photographer near you is paramount in the end-to-end success of your wedding day, from storyboarding and documenting to sharing and archiving. 
Have more questions? Yours Truly Media is here to help.