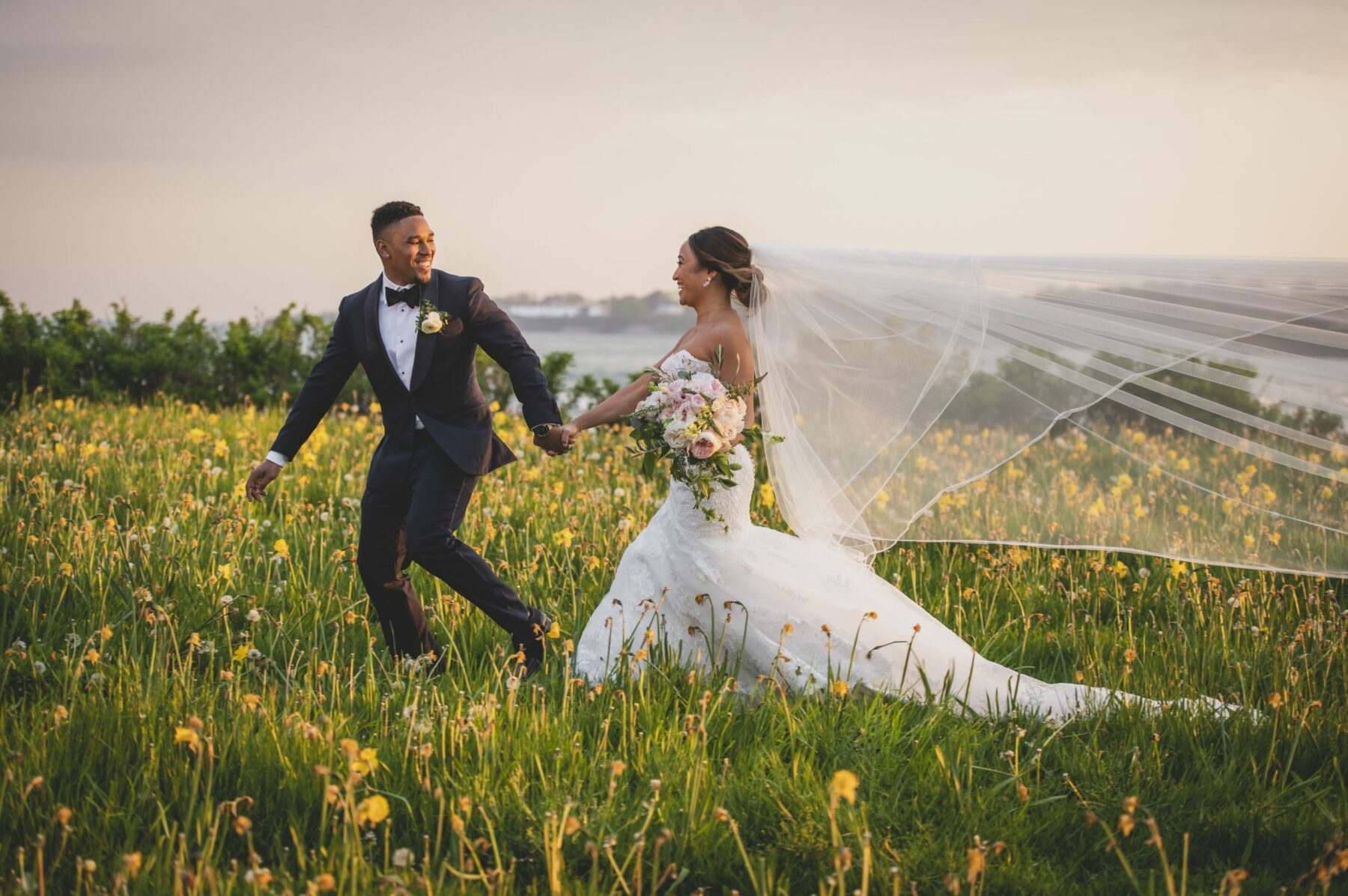 At Yours Truly Media, our wedding photographers work tirelessly to ensure each of our Forever Couples' wedding photos reflects their style, personality, and incredible wedding event using unique strategies that transform their big day into a photojournalistic experience.
Our wedding photographers strategically capture both posed and candid guests at their best, so each image in the final wedding portfolio allows the couple to relive the occasion — including moments they did not experience (or even know we captured!) — and happily share them with the world.
Here is how.
1. Capturing the Perfect Reactions. 
There is so much happening in the first few minutes after saying I do that guests are utterly overwhelmed by the beauty and commitment they just witnessed. This sentiment can be captured beautifully as the bride and groom retreat up the aisle as a married couple.
We will capture each sincere smile, tear, and cheer along the way.  
2. The Magnificent Entrance.
When photographing the bride, groom, and wedding party's grand entrance, our goal is to showcase the energy of the moment as it is being celebrated by family and friends.
Not to worry. We would never miss you and your new spouse entering the venue. That is a given. But also capturing the pure and raw emotion of the wedding guests during this crucially exciting moment will really tell your love story through imagery.
3. The Amazing Anticipation of Movement.
Great photographers know that getting the best shot requires more than focusing on where the action is, but where it is going to be.
We know when something great is going to happen, and we follow it to find wedding guests at their best, so our Forever Couples get to see it too.
4. When Opportunity Does Not Exist, Create It.
Wedding guests are as different as flowers and plaid, and sometimes putting the two together makes for clashing chaos.
Other times, when the photographer takes the time to ensure the right shots are created, guests can be asked to take a step forward — especially the more reserved, constantly-seated personalities — and posed perfectly, as if the shot was just waiting for someone to take it.
The ability to create picturesque opportunities from the shy and energetic, while ensuring inclusivity, is a long-acquired skill our photographers are proud of.
5. Dancing in the Moonlight.
When the bride and groom take to the dance floor for the first time, it is the perfect opportunity to capture the guests watching adoringly. This is where some of the most exceptionally heartfelt candid shots take place.
Likewise, when everyone is invited to dance, it is the perfect time to watch guests — both those who already know each other and those creating new connections — interact with only love and happiness in their hearts.
This is the perfect opportunity for our photojournalistic style to shine, as the action unfolds naturally, leaving plenty of room to creatively adjust the angles and lighting to enhance these special moments.
6. Group Shot!
If there is one thing wedding guests love, it is their inclusion in a group shot. There is something about capturing the emotion of guests during these fun and supportive shots, as their faces are sincere, smiling, and oh-so-happy to be part of this incredible day.
7. The Bouquet & Garter Toss.
Our wedding photographers know that by the time the bouquet and garter toss happens, everyone is a lot looser than they were when they arrived. This is the perfect time to catch the fun of the female guests out of their shoes and ready to catch the bouquet or the guys with loosened ties to congratulate the groom during the garter toss. While everyone is more playful during this portion of the wedding event, it does not have to be sloppy. And we will ensure that is true.
8. The Exit.
It is time to say goodbye after an amazing wedding event, which evokes a lot of emotions from family and friends.
Our wedding photographers will capture the sentiment behind the goodbyes, and the happiness shared by everyone in attendance as they wish the newlyweds farewell for now.
Are You Ready to Catch Your Wedding Guests at Their Best?
At Yours Truly Media, we are ready to discuss your wedding photography needs today, so you can look forward to your exciting event with confidence knowing we are capturing the wedding party and the guests in their best light, so you can see just how much everyone enjoyed your big day. Contact us to schedule a free consultation with one of our skilled wedding photographers to learn more about our strategic processes, so you know what to expect while we are shooting your event and when we deliver your final wedding photos.